Why should you take PMP Training from PMI ATP

As a valued and licensed PMI® Authorized Training Partner DaySpring will get visibility among PMI customers as an approved training provider, exclusive access to licensed content, and instructor training.
ENDORSEMENT FROM PMI
DaySpring is the premium tier Authorized Training Partner (ATP) endorsed by Project Management Institute. We have been reviewed and endorsed by PMI Authorized Training Partner Program.
ACCESS TO TURN-KEY CONTENT
As an Authorized Training Partner we will provide Project Management Professional (PMP)® exam prep course with turn-key licensed content, including instructor and participant guides, and online learning assets like quizzes, knowledge checks and videos. Content management is maintenance-free. We will use this content for in-person and virtually instructor-led courses.
INSTRUCTOR TRAINING
All our instructors are trained and endorsed by PMI's the Authorized Training Partner Train the Trainer – PMP® Exam Prep program which sets them up for success and prepares us to deliver PMP® exam prep and training content to PMI's quality standards.
PRE-APPROVED PDUs
Any PDU claim made against a course delivered by DaySpring Limited will automatically be accepted by PMI without audit. This is a value-add for our valued students.
You may ask, as a Student, What's In It For Me (WIIFM)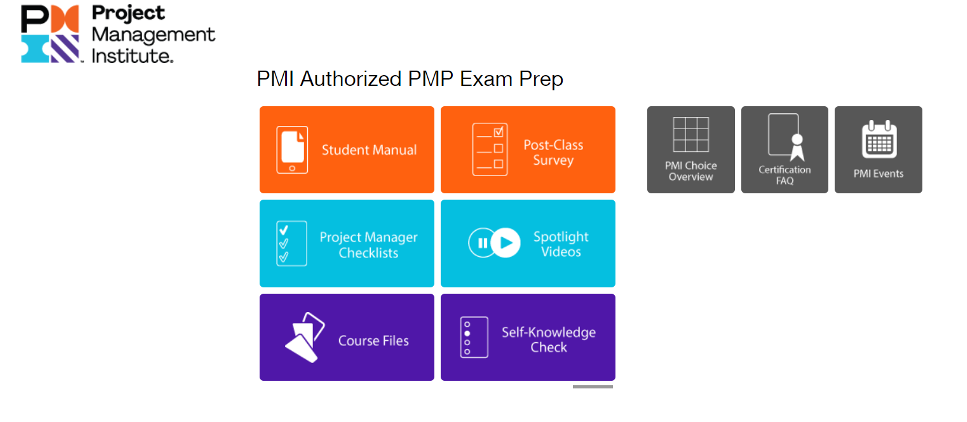 Once you train through us you will get access of The PMI CHOICE platform ($39) which will provides students with access to a host of resources and learning tools.
Your PMI CHOICE account gives you access to great digital resources like:
Student Manual:

An electronic version of the materials for your course, which can be viewed and annotated from a variety of platforms including computers and iPad/iOS, Android, and Windows tablets.

Post-Class Survey: A required survey for students to take at the end of class.
Project Manager Checklist: Step-by-step procedures and reference material for concepts covered in class that you can use as a reference during and after class.
Spotlight Videos: Short (3-6 minutes) videos that enhance and extend the classroom learning experience.
Course Files: Course data files are used to complete hands-on activities.
Self-Knowledge Check: A set of multiple choice and true/false questions to help you self-assess your pre and post-mastery of the course content.
PMI CHOICE Overview: Learn about all the resources available to you on PMI CHOICE.
Certification FAQ: Use this link to learn more about the PMP® certification and other certifications available from PMI.
PMI Events: Use this link to view information about upcoming PMI events.
Locker: A place to store any files or content created and used during class that you have made notes on or that have been provided to you by your training provider.