The Quest for PMP Certification
In the year 2003 when I was first appointed as a Project Manager for developing an e-commerce platform for online bookselling of a conglomerate in Bangladesh Omni group of companies. I believe this was the first of a kind of Project in Bangladesh.
I was a Software Engineer then and was solely involved in the technical part of a project. After thrown into a challenging responsibility, the first thing did was searching yahoo.com (Google was not in a position to beat that time's dominating search engine Yahoo!) .to understand who is a PM and what his/her responsibility is that"s the beginning of my PM journey. At that time there were no project management training providers in specially for IT projects. One Bangladeshi expatriate who came from Australia took a "Software Project Management" training organized by https://bdjobs.com in 2005. I was one of the participants in this workshop. In the same year or just in the earlier year BASIS (Bangladesh Association of Software and Information https://basis.org.bd) arranged the training on "Preparation for project Management professional Certification" jointly with Pro.Wiz, Singapore. But that was too costly to afford (70,000BDT/person, can you imagine, it was in 2005)
Fortunately, I joined Robi Axiata Limited (known as AKTEL earlier) in IT Division in 2005. BASIS arranged the same training (2nd Batch) in September 2005 (24 Sep 2005 to 28 Sep 2005) offering 35 Professional Development Units (PDUs). With the sponsorship of Robi, I did the training conducted by V. Ravindran, Managing Consultant, Pro.WIZ, Singapore (Certificate of Participation attached below). The journey with PMI and the quest for PMP certification begins.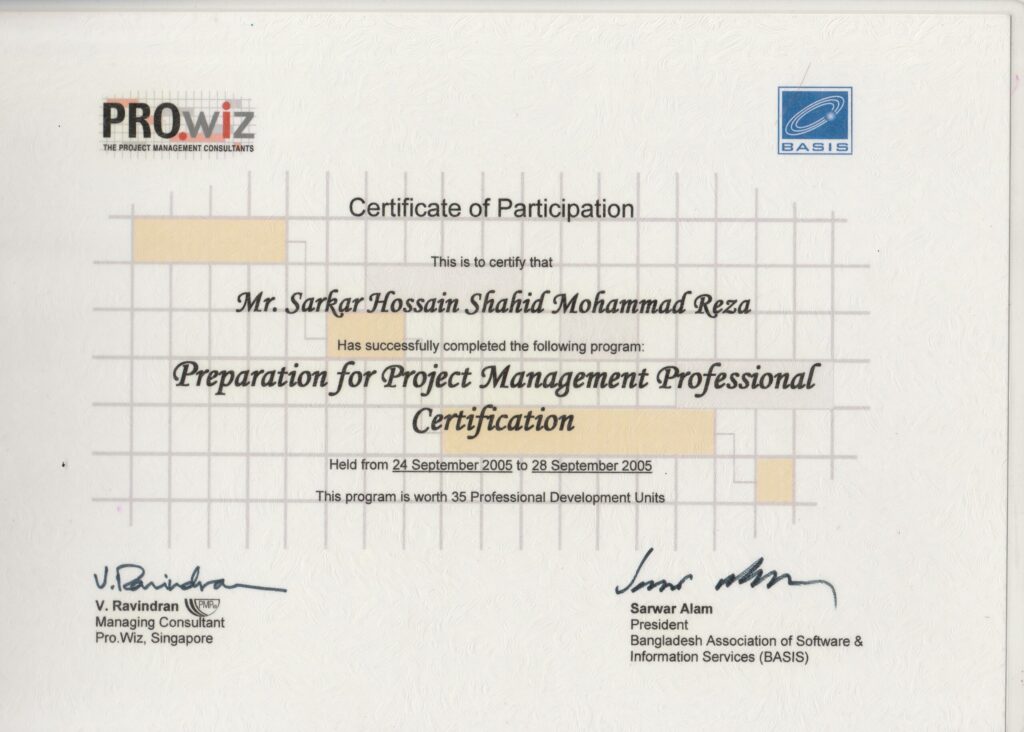 Project Management Experience flourish
It was a great experience working in one of the leading telecoms in Bangladesh, Robi Axiata Limited (https://rob.com.bd). I got ample exposure to lead and manage a couple of medium and large scale projects, for instance, Integrated Credit Management System, EasyLoad Project Implementation, ILDTS Policy Implementation, NRTRDE, and RAEX Implementation for International Roaming, In-house development, and enhancements, CMS Client Development, etc.
PMP Certification Journey
I was too busy to focus on PMP Exam preparation. Then in 2010, I finally decided to sit for the exam. After a couple of months of study, I got myself confident to sit for the exam.
In the same year, at the request of my Robi colleagues, I started taking PMP Course in Bangladesh on one of my friend's office premises. That was the beginning of a new dimension of my career.
Entrepreneurship is an adventure, not for everyone!
My entrepreneurship journey starts with this quote in my mind:-
Why should you spend your whole life fulfulling others dream. Its time to pursue your own dream – "Now".

Shahid Reza, 2010
I planned to be a good manager in a safe corporate world with a good paycheck. But challenges, adventure, aspiration, hungriness for learning, and running behind the passion is in my blood. I love to win, I am hard on winning passion.
First-ever PMI Authorized Training Partner in Bangladesh since 2012
There was no Project Management Institutes (PMI) Authorized Training Partner (ATP) [earlier known as Registered Education Provider (R.E.P.)] in Bangladesh. I took a project to be the first authorized training partner of PMI. That was really cumbersome documentation, approvals, challenges, if-else, buts, and whatnot. Finally, we made it possible in 2012. DaySpring Limited became the first-ever PMI Authorized Training Partner in the history of Bangladesh. This is something big to celebrate and cheer for. We showed the path for hundreds of project managers, project management professionals, enthusiasts, aspirants to fulfill their dream and compete in the global market becoming global project management certification holders.
2021: PMI ATP in Bangladesh
DaySpring Limited now is the PMI's premier tier Authorized Training Partner (ATP) headquartered in Bangladesh. Our instructors are PMI-approved and trained to teach with the official PMI Project Management Professional (PMP)® prep course material through the PMI® Authorized Training Partner Program. So, you know you are being trained with high-quality, PMI-developed content. Plus, our session is interactive to help you work through your thought process on exam day.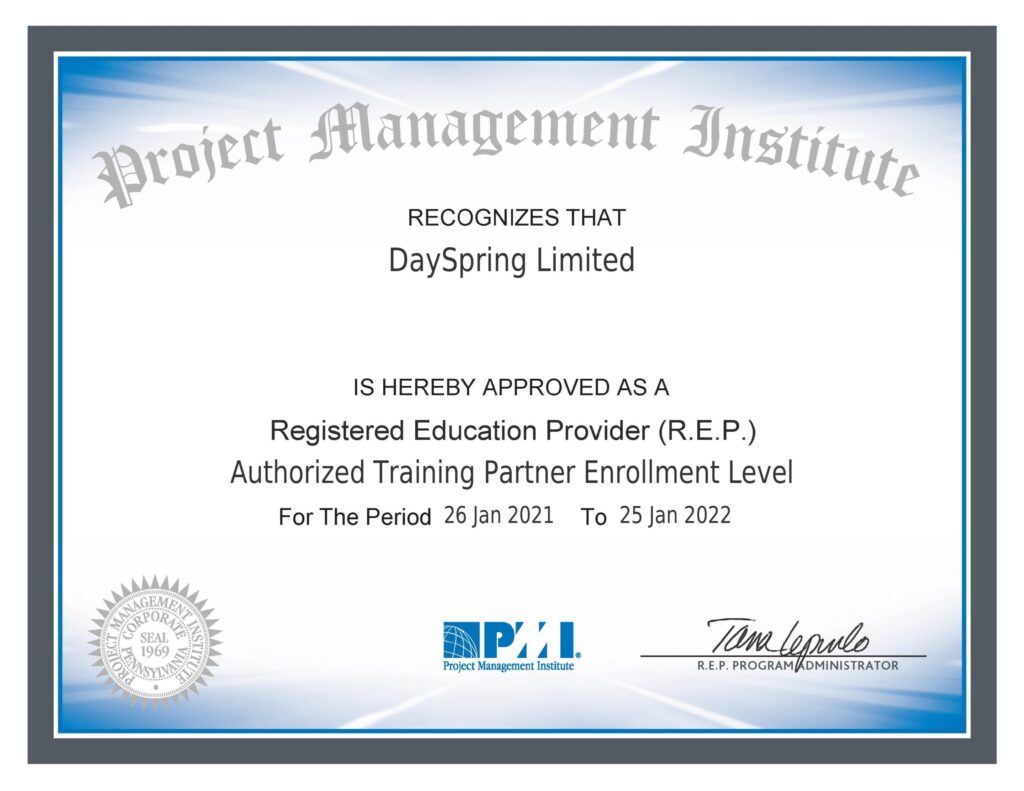 Our motto is "DaySpring is a knowledge technology, where knowledge is cultivated". We are here to empower you to become Project Leaders for the future. The world really needs skilled, competent, and capable Project Leaders like you.
Available Courses for you to prepare for the PMP Exam:
The author of this article is Mr. Shahid Reza, PMP, PMI-ACP, DASSM. He is the PMI Authorized Instructor for PMP. He is also the first-ever PMI Auhtorized Instructor for Disciplined Agile (DA) certifications (DASM and DASSM) in Bangladesh. He is the dreamer and founder of DaySpring Limited. He is a proud father of three beautiful kids (Yusri, Ayan, Juhaina) and husband of a loving wife. Books are the only thing in the world that make him crazy and keep him young. The best company, he loves, spending some time, with thyself in a place where nobody knows him.

Wednesday, 07 July 2021 at 02:17 AM BST